"Wear sunscreen. If I could offer you only one tip for the future, sunscreen would be it." – Mary Schmich
Ladies and gentlemen, let's talk about sunscreen. It's the single most important skincare product you can add to your daily regimen and everybody needs it. There's been a lot of buzz about sunscreen in the news this summer, so we sat down with our skincare professionals to find out more about sun safety, proper sunscreen use, and what products they recommend.
Is SPF really necessary?

Sunscreen is essential, no matter how light or dark your skin tone is. We all know that sunscreen helps prevent skin cancers, like melanoma, but there are several other benefits as well. In addition to skin cancer prevention, regular SPF use can also help prevent pigment issues like melasma, freckles, and post-inflammatory hyperpigmentation. By limiting your exposure to harmful UV rays, which break down the collagen and elastin in your skin, sunscreen can also help protect you from premature signs of aging like fine lines and wrinkles.
Is sunscreen bad for you?
Just like any other skincare product, the quality and safety of your SPF will vary widely depending on the brand and ingredients included. We always recommend using a physical or mineral sunscreen vs. a chemical sunscreen, because the ingredients are generally much safer. You'll be able to identify a mineral sunscreen by looking for Titanium Dioxide and/or Zinc Oxide in the "Active Ingredients" portion of the label.
How much sunscreen should I use?
Generally, experts recommend using between ¼ tsp to ½ tsp for the face, neck, and chest. While this may seem like a bit much, you'll want to make sure that the entire area is covered with a thin layer of product, and that you're not missing any important areas, like your hairline or ears!
How often should I reapply sunscreen?
Experts recommend reapplying your sunscreen every 80 to 120 minutes. If you are actively sweating or exposing the area to water, you'll want to apply closer to the 80-minute mark. If you are in a dry environment, or are using additional layers of protection such as a hat, you can wait the full 2 hours before reapplying.
What sunscreen should I avoid?
Try to avoid sunscreens with benzene, parabens, artificial fragrances, and dyes. You can also look for cruelty free, gluten free, and reef friendly products, depending on your preferences.
What SPF do experts recommend?
Our skincare experts recommend the following products:
HydraTint Pro Mineral Broad Spectrum Sunscreen SPF 36 from ALASTIN
This product has a bit of a cult following around here, and for good reason! ALASTIN HydraTint is a lightweight, all-mineral, broad-spectrum tinted sunscreen that hydrates and protects the skin from harmful UVA/UVB rays while providing a soft, glowing appearance. It is non-comedogenic, hypoallergenic, paraben free, cruelty free, and gluten free making it an excellent choice for all skin types. This reef-friendly formulation contains just a hint of tint that matches most skin types and leaves no white residue.
What we love most: the fact that this product is tinted, combined with long-lasting hydration, makes it the perfect daytime SPF. It's like a moisturizer, sunscreen, and foundation all in one.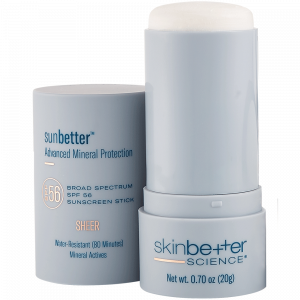 SunBetter® SHEER SPF 56 Sunscreen Stick by SkinBetter®
If you're looking for convenience, the SunBetter® SPF 56 Stick is your new best friend. It's high-level sun protection in a weightless, transparent, and easy-to-apply stick. SunBetter is dermatologist tested, paraben free, fragrance free, dye free, and cruelty free. It protects against both UVA and UVB rays, and goes even further, protecting against blue light, pollution and infrared radiation.
What we love most: the fact that this product is so easy to apply, combined with its 80-minute water resistance rating, makes it the perfect choice for sports and other outdoor activities.
We hope this article has helped answer some of your questions regarding safe and appropriate use of sun protection products! As always, please feel free to reach out to us if you have any additional questions. You can schedule a free skincare consultation with our Nurse Practitioner or Licensed Aesthetician here.
Please note: spending time in the sun increases your risk of skin cancer and early skin aging. To decrease this risk, regularly use a sunscreen with a Broad Spectrum SPF value of 15 or higher and other sun protection measures including: Limit time in sun, especially from 10 a.m. – 2 p.m., Wear long-sleeved shirts, pants, hats, and sunglasses, Ask a doctor for use on children under 6 months.