About BBL Corrective
A clear complexion is a beautiful complexion. But, how do you get a clear complexion? Most of us turn to temporary fixes like concealers and brightening masks.
While these products might help in the short-term, wouldn't you love it if you could find a permanent solution to uneven skin tone, brown spots, and redness? Great news! We HAVE that permanent solution for you: BBL™ Corrective in Orlando, Florida!
What BBL Corrective Treats
Brown spots, which include:
Sun damage
Hyperpigmentation
Post-Inflammatory Hyperpigmentation
Redness, which includes:
Rosacea
Facial veins
Broken capillaries
Know Before You Go
Everything you need to know before, during, and after your appointment at Affinity Med Spa.
01. Before Your Appointment
Since BBL Corrective in Orlando is a light-based treatment, the amount of pigment in your skin is important. This treatment is safe for Fitzpatrick skin types I through III, which includes very fair tones to light brown or light olive tones.
You should avoid sun exposure or spray tans for about 4 weeks before your BBL Corrective in Orlando. You can reduce your sun exposure by wearing hats and using a mineral-based sunscreen with an SPF of 30 or greater. Always make sure to re-apply sunscreen throughout the day.
Several common medications, including some oral antibiotics, can make your skin more sensitive to the sun. If you are on any prescription medications, please let us know before scheduling your BBL Corrective treatment so we can make sure they won't cause photosensitivity.
If you have ever gotten a cold sore (HSV) in the area being treated, please let us know at least a week before your appointment so we can prescribe an antiviral medication.
This treatment may not be for everyone. You may not be a candidate for BBL Corrective in Orlando if:
You have epilepsy
You are pregnant
You have an autoimmune disease
You have uncontrolled diabetes
If you have any other medical conditions that may affect your ability to heal after treatment, we recommend speaking to your primary care provider before scheduling a BBL Corrective treatment in Orlando.
02. During Your Appointment
If possible, please arrive for your treatment with clean skin. You may arrive early for your appointment to remove makeup or facial products if necessary.
 While everyone's pain tolerance differs, most of our clients say BBL Corrective hurts much less than expected! We think the treatment feels like little rubber band snaps.
Unlike traditional IPL treatments, our BBL Corrective device has a built-in cooling system to help keep your treatment as comfortable as possible.
The treated area will feel warm for about an hour after treatment. This sensation is like having a very mild sunburn.
03. After Your Appointment
What to expect after your BBL Corrective treatment:
Your skin may appear red and swollen and feel like you have a mild sunburn. This is a normal reaction that can last from a few hours to a few days after treatment.
Freckles and sunspots may turn slightly darker after treatment and will flake off in 7 to 14 days. This is a normal and desired reaction to treatment.
You may experience redness (erythema) and swelling around treated blood vessels. They typically will appear lighter, smudgy, and less defined. This is normal.
What to avoid after your BBL Corrective in Orlando: 
Avoid the use of scented soaps or lotions, exfoliant creams like Retin-A, glycolic or salicylic acids, alpha-hydroxy acids, and acne creams or gels.
Avoid washcloths, loofahs, Clarisonic devices, and/or any other excessive scrubbing until all brown spots have sloughed off.
DO NOT scratch or pick at the skin.
Avoid shaving in the treated area for at least 24 hours.
Avoid swimming pools or spas treated with multiple chemicals or chlorine for at least 48 hours.
Avoid activities that cause excessive perspiration for at least 48 hours.
Avoid ALL sun exposure for a minimum of 7-14 days after treatment. Ideally, avoid sun exposure for about 4 weeks after your BBL treatment. You can reduce your sun exposure by wearing hats and using a mineral-based sunscreen with an SPF of 30 or greater. Always make sure to re-apply your sunscreen throughout the day.
Avoid very hot or very cold water; warm water is best.
What should I do if I am uncomfortable after my BBL Corrective treatment?
A cold compress or ice pack can help cool the area if it is especially warm after treatment. Patients rarely need this, but may be helpful up to 4 hours after treatment.
You may apply Vitamin E or Aloe Vera to the treated area to help relieve discomfort.
If you are very uncomfortable, you may use oral pain relievers like Tylenol or Advil.
You can apply makeup directly after treatment as long as the skin is intact and there are no signs of blistering.
How it works
Beautiful Results with the Power of Light
Broadband Light, or BBL, is the most powerful form of Intense Pulsed Light (IPL) on the market. IPL uses energy from light and heat to penetrate the skin and target problem areas like brown spots and redness. As your skin heals, the pigment and vascular areas that cause these brown spots or redness will fade, revealing a clearer, more even complexion.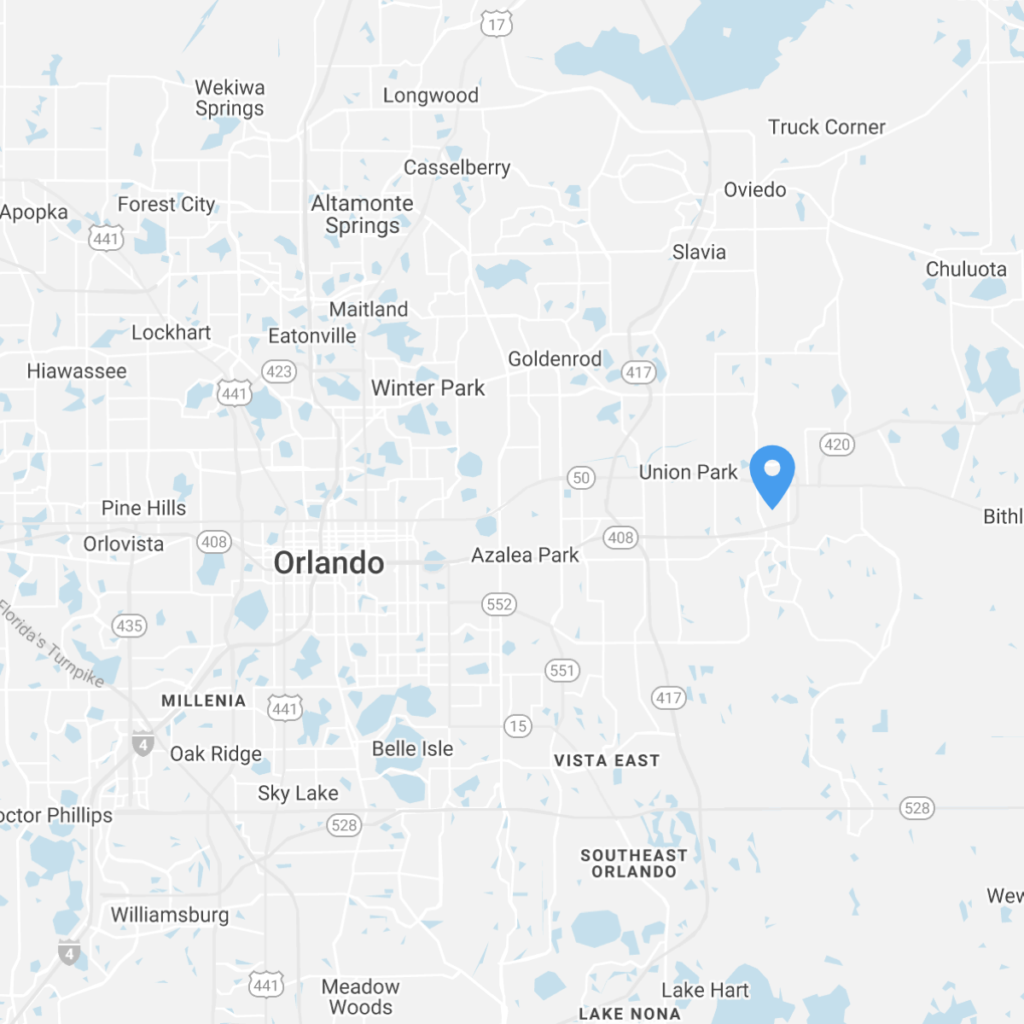 Visit Our Med Spa
Address
779 N Alafaya Trail
Orlando, FL 32828
Phone
407.900.2727
Hours
Sun-Mon: Closed
Tue-Fri: 10:00am–7:00pm
Sat: By Appointment Only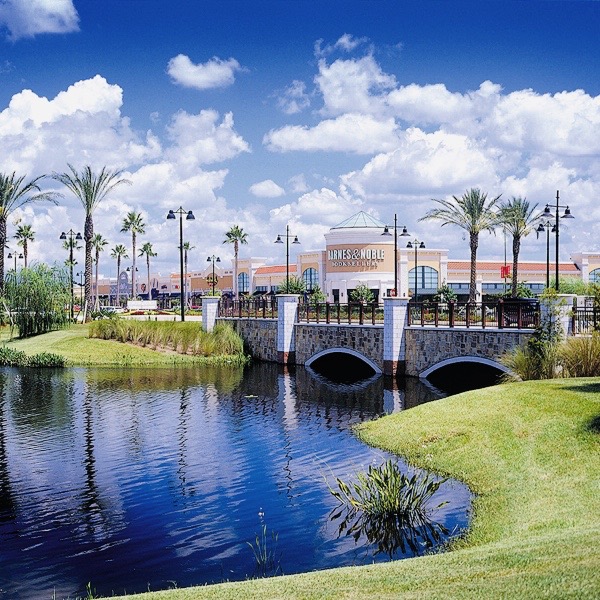 About Affinity Med Spa & Wellness Center
Affinity Med Spa and Wellness Center is an award-winning, family-owned and operated business that has been serving the East Orlando community for over 20 years.
We offer safe, industry-leading wellness and aesthetic treatments performed by friendly, caring, and experienced licensed professionals.
Client Love
The staff is very warm and welcoming. They make you feel at ease and they are confident in their skills.
– Kathy
The experience is great from booking to the end of your service. Great massage and facial treatments. Staff is very professional and only "sell" you what you really need/what is good for you. Will be coming back, thanks!
– Ana
I had my first visit this Friday and I will definitely be back! All of the staff was so kind and welcoming and made me feel very comfortable! Looking forward to returning and trying out some of the other services that they offer! Highly recommend!
– Jenessa
As Seen In…
Television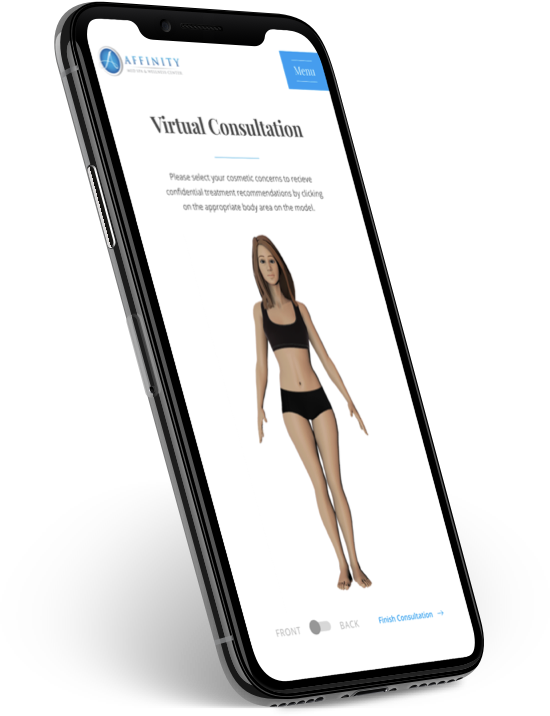 Am I a candidate?
Not sure what treatment you need? Use our Virtual Consultation tool to select your areas of concern and receive customized treatment recommendations.