Limited Time Special

Get a FREE Morpheus 8 Neck Treatment ($299 value) when you purchase a Morpheus 8 Face Treatment now through September 30th! This offer is also valid on packages, so if you purchase 3 face treatments, you'll get 3 neck treatments ($897 value) for free!
What is Morpheus 8 Microneedling?
Morpheus8 is an advanced aesthetic treatment that provides minimally-invasive skin and tissue remodeling in just a few easy treatments.
How does Morpheus 8 microneedling work?
Morpheus8 targets the deeper layers of the skin using a matrix of micro-pins commonly known as microneedles. Combined with radiofrequency (RF) energy, this treatment triggers your body's own building blocks to reorganize and rebuild the collagen in your skin. As your skin heals, this boost of collagen helps smooth, tighten, and contour the treated area. RF microneedling in Orlando can also provide a mild reduction in fat, making it the perfect treatment for the lower face and neck.
Results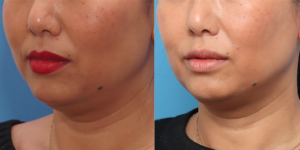 You can learn more about this treatment by visiting our Morpheus 8 Microneedling page, or by scheduling a complimentary consultation. Call or text us at (407) 900-2727 to reserve an appointment today!